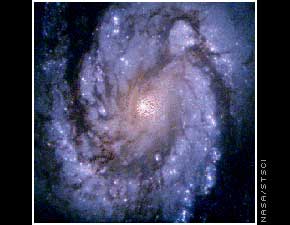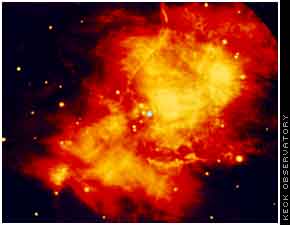 galaxy
large aggregation of gas, dust, and typically billions of stars. It is held together by the gravitational attraction between its parts, and its rotational motion prevents it from collapsing on itself.A typical spiral galaxy is shaped like a flat disk, about 100,000 light-years in diameter, with a central bulge, or nucleus, containing old stars...
nebula
immense body of highly rarified gas and dust in the interstellar spaces of galaxies. A diffuse nebula, such as the CRAB NEBULA, is irregular in shape and ranges up to 100 light-years in diameter...
supernova
exploding star that suddenly increases its energy output as much as a billionfold and then slowly fades to less than its original brightness. At peak intensity, it can outshine the entire galaxy in which it occurs...